Project Objectives
Implementing EBS based accounting and procurement system to realize efficient and standardized business processes in place of legacy systems
Application Overview
After go live on head quarter, roll out procurement as well as financials to group companies.Sharing the policy to utilize the standard functionality and minimize add on functions to reduce the time and cost.
Benefits
Realization of unified business processes and utilized integrated data
Trinify's main roles
Presales
Research and Analysis
Requirement definition
Design
Development
Test
Go live Assistance
After go live support
Operation and Maitenance
PM/PMO
Undertook all of the phases of procurement business area from CRP lead to design, development, and test phases.
Undertook rolling out to group companies on financial accounting as well as procurement
Cooperated with Indian offshore to transfer application specifications and to receive their source programs.
Project Organization

System Overview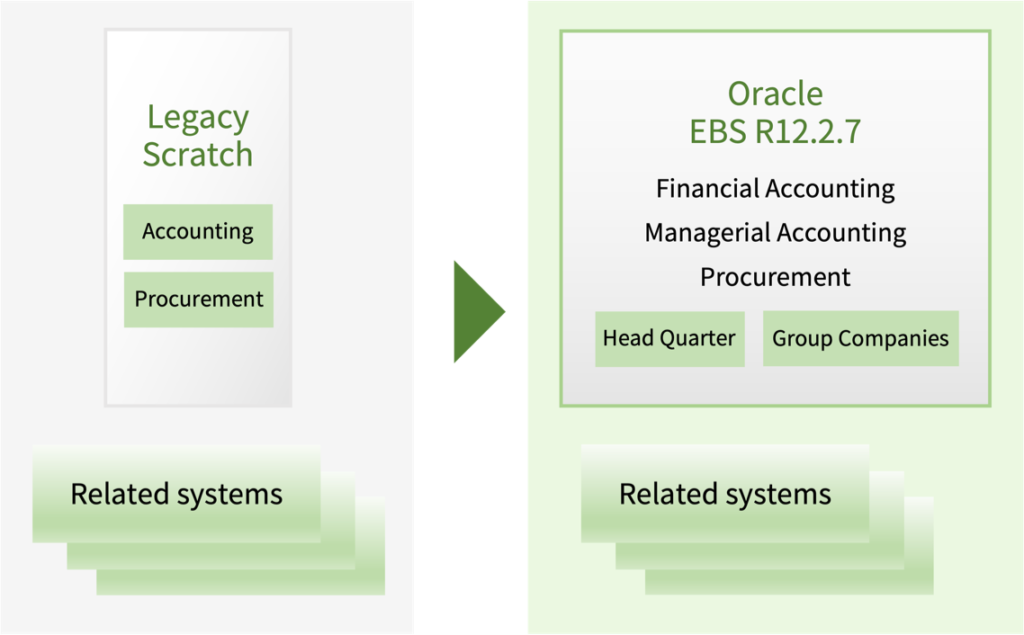 Project Detail
Project size:300 in total ( excluding offshore personal )
Trinify team ( procurement ) 25 members
Trinify team ( Group company roll out ) 12 members